Balloons
We stock a wide range of latex balloons suitable for air fill and also decorator quality latex and foil balloons for filling with helium.
Air fill quality balloons are available in:
Assorted party packs, all ages from I to 10, 18, 21, 30, 40, etc, to 100, Engagement, Hen Night, Wedding, and many others.
Helium quality balloons are available in:
Solid colours in regular and pearlised finish and all the titles mentioned above.
Helium quality latex balloons are supplied in packs or loose. They can be supplied flat or inflated by ourselves. We rent out cylinders of helium for the customer who wants to the job himself or herself.
We provide a balloon decorating service for all occasions from Christenings to Weddings, Anniversaries and any Birthday event. Please e-mail us for brochure and price list.
If delivery to venue is required this can be arranged, cost is detennined by distance.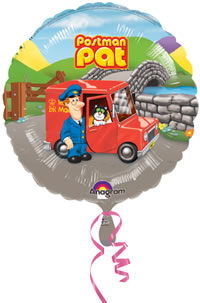 Foil Balloons are available in a huge selection of titles to cover all occasions from Birth of a baby to 100th Birthday. From engagement to 50th Wedding Anniversary. Get Well, Welcome Home, Congratulations and many more. Foil balloons are also available as many licensed characters such as Bob the Builder, Postman Pat, Disney Princess, Barbie, Disney Princess, Winnie the Pooh.

We pride ourselves on being able to supply balloons for any occasions to our customer's specific requirements. Please call in to our Stirling shop and let us help you say it with balloons.